Cottontown Roofing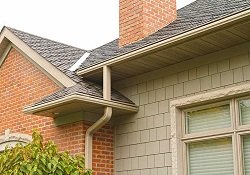 Which feature of your house do you regard to be the most important, and why? Most people consider the kitchen, the entertainment area, or other areas of the house where they spend the most time. The roof, though, is arguably the right response. Why? It is because your home's roof shields everything that is inside of it from the elements. Your house would ultimately fall apart if you did not have a sturdy roof over your head. Because of this, it is crucial to take care of your roof and get the finest Cottontown
roofing service
you can.
Residential roofing materials come in a wide variety and have advanced significantly over the past ten or so years. You get superior performance in addition to more color, style, and accent options. However, one thing has not changed: the overall caliber and lifespan of your roof will be determined by the skill of the roofing contractor in Cottontown that you hire for the job.
Certified Roofer in Cottontown
T & D Construction has been providing service to Middle Tennessee for more than 30 years, and we are very strict about our standards! We offer free inspections for every home roof we install or repair to make sure the roofing material is up to our GAF Certified standards. We specialize in replacing various types of residential roofs, including flat, metal, and asphalt shingle systems. Whether you need a complete roof replacement or just need a few shingles swapped out, T & D Construction is the only Cottontown roofer you'll ever need to call.
Pro-Tip: Always verify a roofer's insurance, licensing, and BBB rating (BBB).
Check out our BBB profile by clicking HERE.
Roofing Contractor in Cottontown for Over 30 Years
Does your roof have a leak? Is it time to completely replace your old, worn-out roof? Have you experienced hail or wind damage from a storm? No matter what size or style of roof you have, we are the experts in roof replacements and repairs. We also assist you with filing insurance claims so you can comprehend the paperwork.
Roof Repair - Always call a consultant from T&D Construction to routinely examine your roof for any indicators of damage so that we can treat it before it becomes a serious (and costly) issue in the future. Calling a Cottontown roof repair specialist is the best method to ensure that your roof is in good condition. When every second counts, you can count on us to be there for you whenever you need high-quality repairs.
Roofing Replacement - Is there evidence of wear and tear on the surface of your roof? Perhaps you're tired of looking at the same old roof and want something different. When simple repairs are no longer sufficient for your roofing system or when you are ready for a change, the professionals at T&D Construction will replace your whole roofing system.
Storm Damage Roof Repair in Cottontown
After going through the unpleasant experience of dealing with storm damage to your roof, the last thing you want to do is deal with insurance claims. On the other hand, you don't have to go at it by yourself! We are available for emergency repairs, especially when it comes to dealing with insurance claims for storm damage, and we will assist you throughout the entirety of the process of filing an insurance claim.
Contact the Most Experienced Cottontown Roofing Contractor
Knowing how to install shingles is only a small part of taking care of someone's house. You can be confident that you're choosing seasoned Cottontown roofing contractors who know how to do the work correctly the first time when you hire T & D Construction. Additionally, our crew is equipped with everything required to execute your job promptly and, more importantly, safely. Both your bank account and the health of your house will thank you for choosing T & D Construction!